Release date: SFMTA Announces Roadeo Winners
*** Press Release ***
The San Francisco Municipal Transportation Agency (SFMTA) held its 2007 "Roadeo" competition on Saturday, August 11. Contestants in both the bus and the parking enforcement vehicle divisions gathered at 6:30 a.m. at Pier 96 to pit their skills against challenging courses and their colleagues.
The parking enforcement category, the Go-4 Roadeo, included a complex course with parallel parking, vehicle citation, and chalking. Eight uniformed Parking Control Officers (PCOs) competed for trophies and prizes. The winners were Edric Dennis in 1st place, Luis Estrada in 2nd place, and Angie Barsi in 3rd place.
The Bus Roadeo required the bus operators to maneuver through a large obstacle course. The operators were judged on their skill, safety, and precision. In addition to these categories, competitors also needed to keep a passenger happy: one of the judges rode on board the vehicle to score the time, the smoothness of the operator's driving, and to listen for the federally-mandated announcements.
For the fifth consecutive competition, Kevin Grady, former International Bus Roadeo Champion, won the SFMTA Bus Roadeo. The 2nd place winner was Frank Ware and 3rd place went to Leonard Oats. SFMTA Director Cameron Beach also participated in the Roadeo, and Director Wil Din was on hand to cheer on all the competitors.
The first, second, and third place winners of the bus competition will compete in the Northern California Regional Bus Roadeo on October 13, hosted by AC Transit. The bus operator with the highest combined local and regional score will represent the SFMTA at the American Public Transportation Association (APTA) International Bus Roadeo in Austin, TX in May 2008.
The Bus Maintenance Team, Steven Lind, Sam Kuo, and Vernon Ting, will represent the SFMTA at the Regional Roadeo in October and at the APTA International competition in May 2008.
The SFMTA's Roadeo competition was presented with the support of I.B.E.W., Local 6; Dave Co. Financial and Insurance Services; NY Life Insurance Company; and Orion-Daimler Chrysler. In addition to the great competition, family and friends enjoyed musical entertainment by Louis Hogan and the Black Pearl Project.
Photos
Parking Control Officers winners: Angie Barsi 3rd place, Luis Estrada 2nd place, Edric Dennis 1st place: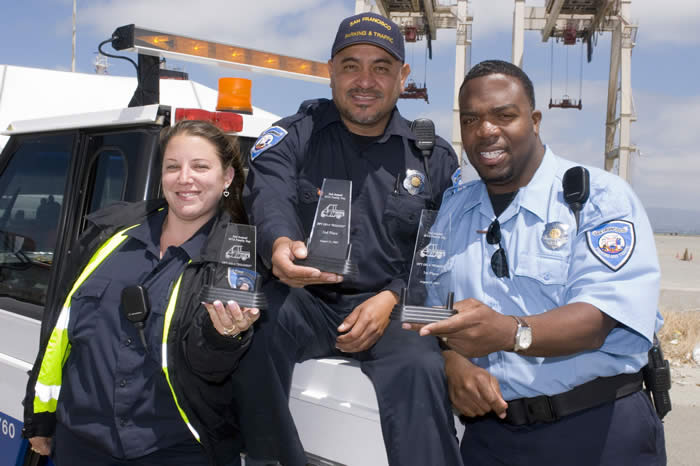 Muni Operator winners: Kevin Grady 1st place, Leonard Oats 3rd place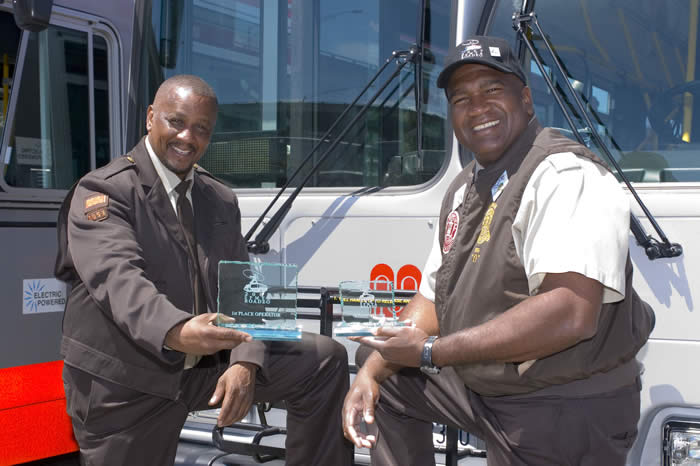 MTA Roadeo winners with Executive Director/CEO Nathaniel P. Ford, Sr.