Release date: Jan. 18, 2012
*** Press Release ***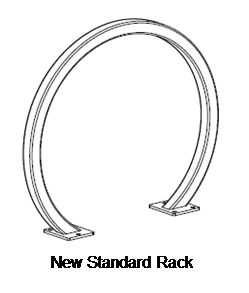 The San Francisco Municipal Transportation Agency (SFMTA), which oversees all surface transportation in the city, today announced the completion of 15 new on-street bicycle parking corrals in 2011, bringing the citywide total to 24. With the 15 new corrals, the SFMTA also rolled out a new, more attractive standard bike rack with a circular profile, which will be used in place of the previous standard inverted U rack.
"Bicycling is an important part of San Francisco's transportation system," said Tom Nolan, Chairman of the SFMTA Board of Directors. "Through the city's Bike Plan, the SFMTA will continue to add dozens of new bike parking spaces and work closely with businesses and neighborhoods to help them bring bicycle facilities to their doorsteps."
"As more San Franciscans choose to get around the city on their bikes, it's vital that we have the infrastructure in place to support them," said Edward D. Reiskin, SFMTA Director of Transportation. "Our bike team will continue to work with neighborhoods and businesses to improve bike access for our thriving merchant corridors."
"We are excited to see so many businesses requesting corrals to meet the growing demand for bicycle parking in commercial corridors," said says Leah Shahum, Executive Director of the 12,000-member San Francisco Bicycle Coalition. "More and more people are discovering how easy it is to do errands and shop by bike, and we're thrilled to see so many new corrals installed citywide."
"We had two bike racks before and they held four bikes - but were always full - so the bike corral gives us greater capacity to provide a safe place for everyone to put their bikes when we come to the Clinic," said Carlina Hansen, Executive Director of the Women's Community Clinic on Fillmore Street. "Most importantly, the corral encourages staff, volunteers and clients to ride to work. Because the Clinic serves low income and uninsured women and girls, we also want to promote biking as a cost effective way to get around and to get to the Clinic."
On-street bicycle parking corrals are bicycle racks placed in the parking lane at locations where demand for bike parking is higher than can be accommodated on the sidewalk. On-street bicycle parking corrals benefit the community and the transportation system by:
Increasing parking capacity and creating potential customers for businesses by converting one motor vehicle parking space into 8-12 bicycle parking spaces.
Encouraging bicycling as a mode of transportation in accordance with the city's Transit First Policy.
Increasing visibility and safety at intersections when bike corrals replace regular parking spaces at those intersections.
Creating opportunities on the sidewalk for café seating or other street furniture uses.
Accommodating bicycle parking without cluttering the sidewalk.
Bike corrals have been installed in the following neighborhoods, providing approximately 150 bike racks (300 bike parking spaces): Bernal Heights; Castro/Upper Market; Downtown/Civic Center; Haight Ashbury; Inner Richmond; Mission; Nob Hill; North Beach; Outer Sunset; South of Market; and Western Addition.
Visit sfmta.com/bikeparking for a full list and details of all bike corrals in San Francisco.