Release date: 10/20/10
*** Press Release ***
The San Francisco Municipal Transportation Agency (SFMTA), which oversees all surface transportation in San Francisco, today began retrofitting 60 unused parking meter poles with new "ring" style bicycle racks. The retrofit ring installation, coordinated by the Agency's SFpark Project and Sustainable Streets Division, is just the latest of a series of steps towards improving bicycle parking throughout the City.
In addition to over 400 sidewalk bike racks, the SFMTA has installed five on-street bike corrals, providing parking for 46 bicycles in the space that could otherwise be occupied by only five automobiles, and plans are underway to install five more bike corrals before the end of 2010. Corrals consist of several racks grouped together in the parking strip, and are usually defined by a combination of pavement markings and safe-hit posts or bollards.
These new ring bicycle racks will preserve bicycle parking in areas where single-space meters are being replaced with new SFpark multi-space meters, primarily in the Civic Center and Golden Gateway areas. The racks use bare parking meter poles as the foundation for secure bicycle parking.
"Since a partial lifting of the Bike Plan injunction last November, and the full revocation in August, the SFMTA has installed more than 400 bike racks," said Nathaniel P. Ford Sr., Executive Director/CEO. "SFpark and our bike program are working together to ensure that we keep expanding bicycle parking while making automobile parking easier and more convenient."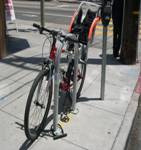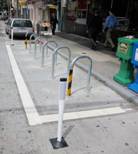 The new racks consist of a galvanized steel sleeve fitted with a ring of square tubing to lock bikes to. The sleeve fits over the disused meter post, saving the trouble and expense of removing the post and creating highly secure bike parking. The SFMTA is coordinating bicycle rack installation with meter head removal to minimize the temporary loss of bicycle parking.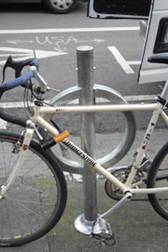 SFpark is a federally-funded pilot project that combines new parking management technology and approaches to make parking easier to find, thereby reducing circling and double-parking. Providing adequate bicycle parking in commercial areas furthers an overall strategy to manage demand for on-street parking in SFparkpilot areas and to ensure that as many people as possible can access San Francisco's commercial areas to help promote their vitality and economic competitiveness. For details visit: http://www.sfpark.org.
Information about bike parking, including bike rack placement guidelines and how to request a sidewalk rack or a bike corral, can be found at www.sfmta.com/bikeparking or by calling 311.