Reduced Frequency and Shorter Hours
Letter from Tom Nolan and Nathaniel P. Ford, Sr. (PDF)
Letter from Tom Nolan and Nathaniel P. Ford, Sr. (accessible Web page)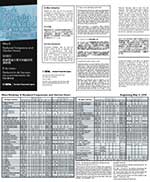 Download a printable brochure (PDF)
Effective Saturday, May 8, the San Francisco Municipal Transportation Agency (SFMTA) will implement Muni schedule changes to most bus routes and rail lines.  These changes include reducing frequencies on most routes and hours of operation on some. These changes are part of a comprehensive cost-savings plan needed to bridge the Fiscal Year 2009-10 operating budget deficit ending June 30, and to aid in reconciling the projected budget deficit for Fiscal Year 2010-11, which begins July 1. 
The linked charts show the new frequencies along with first and last trips for each bus route and rail line for weekdays and weekends:
Temporary service changes due to the St. Francis Circle Rail Replacement Project will also take place starting May 8. The replacement of Muni tracks and other improvements at St. Francis Circle are set to start on Monday, May 17 and conclude in late summer. On May 8 and 9, and then again from May 17 through the duration of construction, the M Ocean View rail line will be suspended. The K Ingleside rail line between 14th Avenue and Balboa Park Station will also be suspended, although service will continue from Downtown to West Portal Station. Service in the Metro subway will be maintained at current levels during commuting hours.
While construction is in progress, service between West Portal Station and Balboa Park Station will be provided by special buses that will be routed around the construction area. Customers need to take any K, L or S train and transfer from rail to bus at West Portal Station in order to reach destinations on the K and M lines.
Note: Muni vehicles stop only at existing marked Muni stops. Reroutes over streets not normally served by Muni will operate non-stop over those streets. Exceptions to this policy, if any, would be noted above as "temporary stop."
Note: All times shown on this page are for expected effects on Muni service, not for the event or activity itself. Events or activities may start or end earlier or later than the times shown. All times are subject to change based on actual conditions. Reroutes may be added, removed or changed, also based on actual conditions.
Please call for more information
For effects on traffic, see Traffic Updates or call 311.