The SFMTA is testing a double deck bus, which is one of many vehicles we will assess, to determine how well it performs on busy San Francisco bus routes and how it is perceived by our transit customers.
SFMTA is exploring a variety of innovative ways to improve the quality of Muni service through the Transit Effectiveness Project. By bringing the double deck bus to San Francisco, customers will have an opportunity to ride the bus and provide feedback, thus shaping Muni's future.
SFMTA is interested in double deck buses because they have proven to carry heavy customer volumes in other cities and may improve reliability and crowding on Muni's busiest lines. The test bus arrived on November 28, 2007 and will be here through January 9, 2008. After about 10 days of training and tours, the bus will operate in-service on multiple Muni routes. Throughout the pilot, the SFMTA staff will distribute customer and employee surveys, in addition to collecting data on boarding and travel time and ridership data. If the bus performs well, the SFMTA could consider this type of vehicle for future procurement.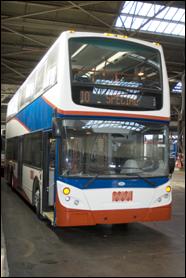 Benefits
Customer Benefits
Similar (if not more) capacity to an articulated 60 foot bus, but will have more seating. The test vehicle will have 83 seats and Muni's articulated buses have 55-57 seats.
Operations and Maintenance Benefits
Many Muni bus yards are overcrowded, making fleet expansion challenging. Double deck buses require 30% less space than articulated buses for storage and maintenance.
Similar maintenance costs to a 40 foot single deck bus (e.g., no articulated joint to maintain).
Requires less space at bus stops than articulated vehicles.
Facts and Specifications
40 feet long - low floor - 1 stairway - 2 doors
14 feet tall - 8.3 feet wide
83 seats (as tested) - other plans available (generally 73-83 seats)
2 wheelchair securement areas
Manufacturer:
Alexander Dennis Limited
Offices in Guildford, Sussex, England and Canyon Lake, CA
Engine:
Low-emission Diesel – 330 hp – automatic transmission
(Hybrid Electric Diesel is currently under development)
In service:
London and other cities in England; Hong Kong; and Las Vegas, NV. Las Vegas has nearly 100 double deck buses of this type from this company in service, and another several dozen on order.
Cost:
Similar to price of 60 foot articulated diesel coaches in service at Muni
Frequently Asked Questions (FAQs)
How much will the pilot trial cost?
Alexander Dennis is loaning the bus to SFMTA free of charge. SFMTA will pay for fuel and evaluation costs.
How much does a double deck bus cost?
The cost of a double deck bus is very similar to the cost of a 60 foot bus. Las Vegas paid about $800,000 per vehicle in 2006. Actual costs vary dependent upon how optional features are configured (e.g., seating arrangements, heating and air conditioning).
What is the height of the bus? Will it clear the trolley wires and other obstacles?
The pilot bus is 14 feet high, similar to double deck tourist buses already in service throughout San Francisco. It will comfortably clear trolley wires and other obstacles. The Broadway Tunnel will be avoided as it is only 13.5 feet high.
Will the SFMTA charge fares while the bus is in service?
We will not charge customers; however; we are requesting that customers complete surveys.
Will the double deck bus be accessible to people with disabilities?
This vehicle was designed to meet ADA accessibility standards. It is a low-floor bus with an accessible ramp and two wheelchair securements on the lower level. The front seats on the lower level will be prioritized for seniors and people with disabilities. The upstairs is only accessible by stairwell.
When and where will the bus run in service?
The bus will run from the beginning of the morning peak until the end of the evening peak (approximately 6:30 am to 6:30 pm). It will run on several routes. We are posting the schedule on this Web site for customers interested in testing it out.
Determine whether your route is part of the test
Are Muni operators trained to drive double deck buses?
A select number of operators will be trained to drive the double deck bus and will be tested to confirm their proficiency. The vehicle operates similar to a standard 40ft vehicle.
Is it possible for the buses to roll over or be unbalanced if the upper deck is full?
The buses are designed with a low center of gravity, so even if the upstairs is at capacity, the bus is not likely to tilt.
Does Alexander Dennis make a double deck electric diesel hybrid bus?
An electric diesel hybrid is in development.
How is the safety of customers going to be monitored?
Upstairs activity is monitored by the operator through a video camera. Operators will follow standard safety practices if an incident is observed anywhere on the vehicle.
Do double deck buses require more time for customers to get on and off the bus?
The trial will examine the issue of dwell time, or how long a bus is at a stop. The bus will be fitted with automatic customer counters (APC) that record dwell time (load and unload time) at bus stops. SFMTA staff will also ride on board to observe.
Will SFMTA collect data and customer feedback during the trial?
Yes. In addition to the APC data that will be collected, customers will be encouraged to complete survey cards, SFMTA staff will ride on board to observe field operations, and bus operators and maintenance staff will be surveyed.
Where else are these buses used in the world?
This type of bus is used in London and other English cities, Hong Kong, and in Las Vegas, Nevada. Double deck tour buses are already used in San Francisco.
Do the buses meet "Buy American" standards?
The double deck buses are manufactured in the U.K., but are finished and outfitted in the U.S.A. where the engine and the seats are installed. Alexander Dennis has an office in Canyon Lake, CA,
Can this bus be modified to operate as an electric trolley-coach?
Likely, but the SFMTA is not considering double deck trolley coaches at this time.