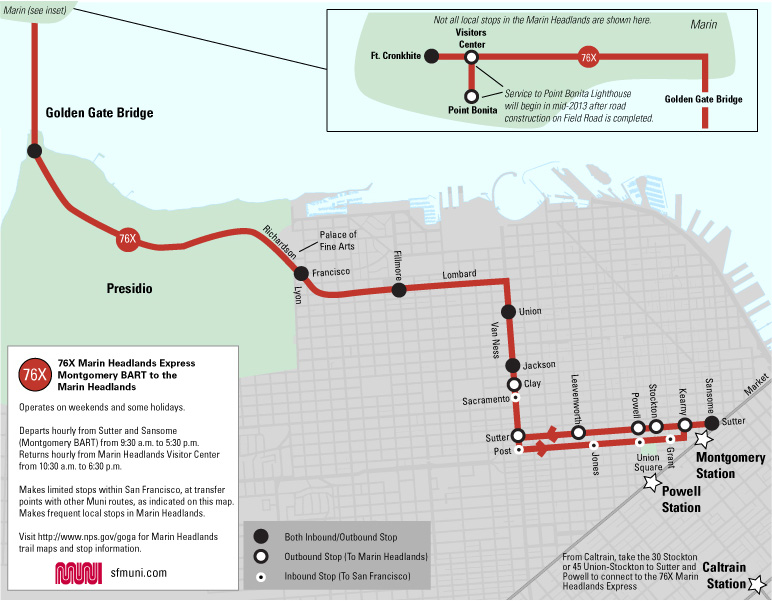 Visit the 76X Marin Headlands Express Facebook page.
Muni started service on the 76X Marin Headlands Express on November 17, 2012, as part of a Transit Effectiveness Project (TEP) pilot to test:
1) The effectiveness of service changes to address travel time and reliability concerns.  As part of the pilot, the route no longer travels south of Market Street to Caltrain, and a new terminal is located at Montgomery BART station. Additionally, remaining stops within the City of San Francisco are more widely spaced (although all connections to major Muni transfer points will remain). All of the discontinued stops are served by other high-frequency Muni lines.  
2) Ridership demand for expanded service. Route 76 previously ran on Sundays and holidays only, hourly, from 9:30 a.m. to 6:30 p.m. As part of the pilot, service has been expanded to Saturdays through a grant from the Golden Gate National Recreation Area (GGNRA).
During the 24 month pilot period, the new service will be renamed the 76X Marin Headlands Express. As part of the pilot, SFMTA staff will collect data about the route's reliability, ridership, and customer satisfaction to assess benefits of the change. Ultimately, this weekend express service should greatly improve the route's reliability, and expand transit access to the Marin Headlands for San Francisco residents and visitors.
Service details
The first trip of the day leaves Sutter and Sansome (Montgomery BART) at 9:30 a.m. on Saturdays and Sundays. Buses depart this terminal at 30 minutes past the hour until 5:30 p.m., with the last bus returning from the Marin Headlands at 6:30 p.m.
View a 76X Marin Headlands Express map (PDF) showing connecting transit routes. Note that direct service to Point Bonita lighthouse on Field Road will not begin until mid-2013.
For more route information, visit the 76X Marin Headlands Express route description page.