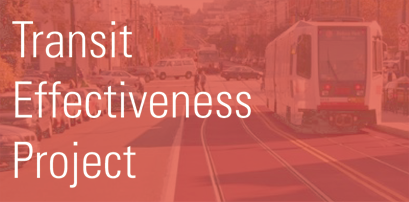 Update
The Church Street transit-only lane pilot project has now begun! On Church Street between Duboce Avenue and 16th Street, the center lanes in both directions are now red-painted transit-only lanes. These "red carpet" lanes will help limit violations by private vehicles and keep the way clear for the J-Church and 22-Fillmore. The pilot will help determine if transit-only lanes help passengers of the J and 22 traverse this heavily-congested area more quickly and reliably. Until further notice, all J trains and all outbound 22 buses will stop at the boarding islands in this corridor. Inbound 22 buses will also stop at the boarding islands in this area except for at Duboce, where they will stop at the curb.
Please read the new TEP newsletter for the latest developments on this program to improve Muni.
The Initial Study is currently available for public review and by downloading from the Planning Department web site at http://tepeir.sfplanning.org. 
The public comment period is Thursday, January 24, 2013 through 5:00 pm on Friday, February 22, 2013.  Please provide written comments to the Planning Department, Attention:  TEP, 1650 Mission Street, Suite 400, San Francisco, California 94103, or email to debra.dwyer@sfgov.org.
The Draft EIR is scheduled to be circulated for public comment in Summer 2013. The final EIR is anticipated in the Winter/Spring 2014.
Transit Effectiveness Project Overview
The Transit Effectiveness Project (TEP) is a program to improve reliability and provide quicker trips for Muni customers. As part of the Muni Rapid vision, and in conjunction with other Muni programs, the TEP will be the blueprint for making Muni a great transportation choice for our residents and visitors. More about the TEP.
At the current stage of the TEP, staff is developing proposals to improve reliability and travel time along eight heavily-used Rapid bus routes and rail lines. Learn more about the Rapid proposals.
TEP Pilots
The 76X Marin Headlands pilot was implemented in November as part of the Transit Effectiveness Project (TEP). In addition, the Church Street transit-only lane pilot was implemented over the weekend of March 23rd and 24th.  For an update on the TEP and these pilot projects, review the latest TEP implementation presentation to the San Francisco Municipal Transportation Agency (SFMTA) Board of Directors.
Community Meetings Update
The SFMTA staff gathered feedback on the travel time reduction proposals from extensive outreach conducted in the Spring of 2012. Since then, staff has been refining these proposals based on further technical analysis and community input.
More outreach is planned for Winter/Spring 2013 to present these refinements to the community. Staff will be presenting at community meetings, conducting on-site and door-to-door outreach. If you would like staff to present to your group, contact Lulu Feliciano at Lulu.Feliciano@sfmta.com or (415) 701-4453.