N Judah (Carl and Cole to Judah and La Playa) and Nx Express Bus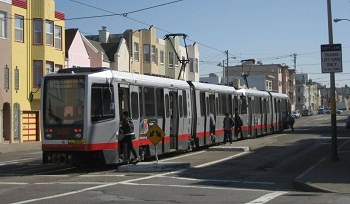 Muni's N Judah rail line carries more than 40,000 daily customers on an average weekday. Approximately 20,000 of these customers board at stops located within the proposed travel time reduction project study area, located along 3.4 miles between Carl and Cole and Judah and Great Highway. Within the study area, the N Judah operates at an average speed of 8 miles per hour during peak periods. There are 21 transit stops in each direction. The average transit stop spacing between Carl and Cole and Judah and Great Highway is 850 feet, with stops located at every two to three intersections.
The main causes of delay to the N Judah include long passenger boarding and alighting times, a high number of stop signs along the route and areas of closely spaced transit stops.
Travel Time Reduction Proposal Overview
In order to reduce transit travel times and improve reliability, the SFMTA proposes a toolkit of measures within the study area. These proposals include:
Summary
Together, the proposed changes are anticipated to reduce the travel time of the N Judah rail service by about 5 minutes in each direction (10 minutes total) within the study area (19% reduction), improving average operating speed to 9.5 miles per hour and improving service reliability. Other changes such as transit signal priority improvements, operational improvements and network enhancements would further improve travel times along the corridor and add valuable customer amenities such as NextBus displays. The travel time savings would also reduce operating costs on the line and allow for service to be cost effectively increased.