The San Francisco Municipal Transportation Agency (SFMTA) produces reports and publications from time to time. Pages that are part of this section of the Web site are archival in nature and may not reflect current information.
Transportation Fact Sheet
The Transportation Fact Sheet contains basic statistics about transportation in San Francisco.
General Information
Photography and videography Guidelines
History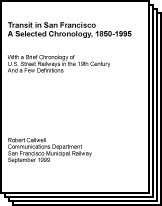 Transit in San Francisco: A Selected Chronology, 1850-1995; PDF

Other Reports and Publications
Access Guide
Information about Muni's accessible services
Audits
Audits of the SFMTA and SFMTA programs; SFMTA responses to audits
Better Streets Plan
A plan to create a walkable San Francisco
Bicycle Reports
Reports from the SFMTA's Bicycle Program
Capital Program
Details on the SFMTA's long range Capital Plan, 5-year Capital Improvement Program and 2-year Capital Budget
Certified Payroll Report
These are bi-weekly certified payroll reports for contractors of the SFMTA.

Clean Air Initiatives
An overview of Muni's Clean Air Programs
Climate Action Plan
Details policies, program, goals, funding and relationships with other City departments to reduce greenhouse gas emissions in the transportation sector and in agency operations
Central Subway Reports
Newsletters and other reports for the Central Subway project
Daily Reports
Reports of each day's Muni service levels and issues
Employee Relations and Agreements
Agreements with Unions (MOU), Employee Relations Operating Resolution
EnRoute Newsletter
Quarterly newsletter from the SFMTA
Equal Employment Opportunities (EEO) Reports
Reports from the SFMTA's EEO unit
Extended Meter Hours Study
A study concerning a proposal to extend parking meter hours of operation throughout the City
Light Rail Line Express Bus Pilot Projects
Reports concerning express bus supplements to light rail, the Nx Judah Express
On the Move for 90 Years: 1912-2002
A look at Muni's past, present and future
Parking Authority Commission (PAC) reports
Reports by, for and about the PAC
Pedestrian-specific reports
Reports concerning pedestrians in San Francisco
Real Estate Reports
Reports concerning Muni property sales and purchases
Service Standards Reports
Archive reports measuring Muni's service goals
Short Range Transit Plan
Muni's 20-year formal planning document
Strategic Plan
The SFMTA Board's strategic plan
Taxicab Commission report archive
Traffic-Related Reports
Annual collision trends and analysis
Traffic counts
Transforming the SFMTA
October 2009 presentation on the reorganization of the SFMTA

Transit Effectiveness Project (TEP) Data
Data collected by the TEP
Transit Fleet Management Plan
A plan for rehabilitation and replacement of the SFMTA's fleet of transit vehicles
Transportation Quality Review Reports
An independent audit of Muni's service standards performance
A Vision for Rapid Transit in San Francisco
An overview of Muni's long-term plans
311 Free language assistance / 免費語言協助 / Ayuda gratuita con el idioma / Бесплатная помощь переводчиков / Trợ giúp Thông dịch Miễn phí / Assistance linguistique gratuite / 無料の言語支援 / 무료 언어 지원 / Libreng tulong para sa wikang Tagalog / คว"มช่วยเหลือท"งภ"ษ"โดยไม่เส'ยค่าใช้จ่าย
©2000-2013 San Francisco Municipal Transportation Agency. All rights reserved.